The EzyTopper was originally designed as a boat to place on roof racks for caravanning – but you need to see it as part of a package that includes; the boat, motor, roof rack, collapsible trailer and perhaps an outboard mount on the caravan, vehicle or a trolley.
When travelling Australia with a car topper boat having a light weight boat with the full package can make the world of difference. Firstly when everything is light is just makes life so much easier! Unloading and loading the an EzyTopper from the roof of your car becomes a breeze, even for 1 person. When you know how easy it is, you'll be getting the boat down more often and spend a bunch more time fishing.
The deciding factors for us to buy this boat was it's lightweight and my wife and I could handle it on and off a four wheel drive and trailer.
Another thing to consider is where you'll be using the boat. Some of the best fishing is in the north, but here lies some serious crocodiles. Our 3.7m Ultimate car topper boat has high sides, 1/2 a meter to be exact. Plus all our boats have great stability.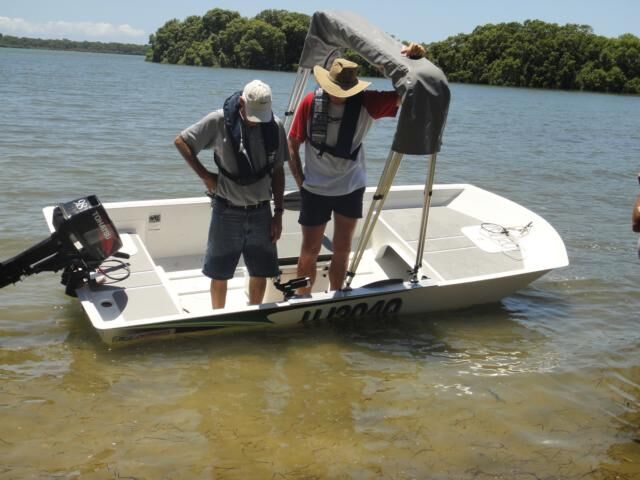 Even more advantages of the EzyTopper Fibreglass Boats
Barra Boat design for lightweight stability & performance.
3m less than 40kg – 3.7m less than 50kg.
Low hp requirements, for example 8hp
2 stroke, 26kg & 22mph performance.
3.7m Boat and 8hp motor weighs 75kgs– which is less than an equivalent aluminium boat only.
EzyTopper Boats can fit easily on sedans etc.
Only simple, light trailers or trolleys are required.
Taking a boat on a trip is more than just the boat.
Fibreglass vs Aluminum boat speeds
The following example is of the 3.7m provided so you can make a comparison of the total package and speeds. The details may change depending on the configuration and systems used, e.g. wind up system for roof rack for an aluminium boat package.
Ezytopper 3.7m Barra Speeds (3m similar)
Outboard Horsepower
km/h
6 hp
27
(1 person)
24
(2 person)
19
(3 person)
8 hp
37
(1 person)
30
(2 person)
27
(3 person)
10 hp
41
(1 person)
37
(2 person)
33
(3 person)
15 hp
50
(1 person)
42
(2 person)
40
(3 person)
Plus – Its Light, Cool, Stable, Quiet and unsinkable!
Fibreglass vs Aluminum boat weight
When comparing the EZYTOPPER to a aluminium boat, the EZYTOPPER package is half the weight and overall can be cheaper than an aluminium boat package. We compared a Ezytopper lite that had the same speeds and features of a aluminium boat. The following table outlines the weight differences our packages compared to the competitors.
Aluminium Boat
Ezytopper 3.7m Lite
Boat Aluminium 3.7M

+ Floor
+ Paint

86kg

20kgs

EzyTopper 3.7m lite
55kg
Outboard 2stroke Yamaha 15hp
38kg
2 stroke Tohatsu 9.8hp
26kg
Rack Wind Up System (unless very strong)
50-60kg +
Ezyslide Loader
15kgs
Trailer Flip N Easy (folding)
70kg
Mangrove Jack portable Aluminium
40kg
WEIGHT
273kgs*
136kgs*
Look at weight difference on Roof of your vehicle:
3.7M Aluminium boat and winder system 165kg*
3.7M EzyTopper boat and EzyLoader 70kg*
In the long term an EzyTopper will save you fuel while boating, but also while travelling.
Real one person loading and unloading which is hassle free and involves much less weight on the top of your vehicle, camper or motor home.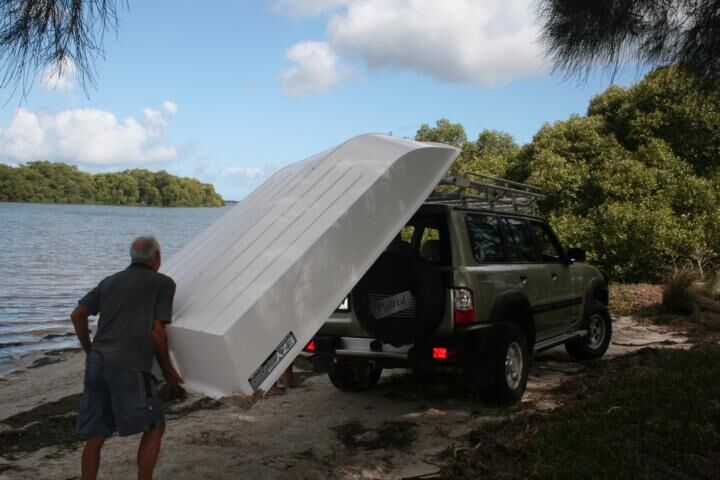 The complete travellers setup
When a customer enquires with Enlightened Boating, we go through absolutely everything. From type of vehicle, style of fishing, weight requirements and travel plans. We have built a business around building entire rooftop boat travel packages together for customers. We sell the boat, outboard, sounder, electronics, boat loader, caravan mounts and fold up trailers. We only recommend what we think will be best for your situation.
We also setup your travel rig at our warehouse to make sure everything is working smoothly.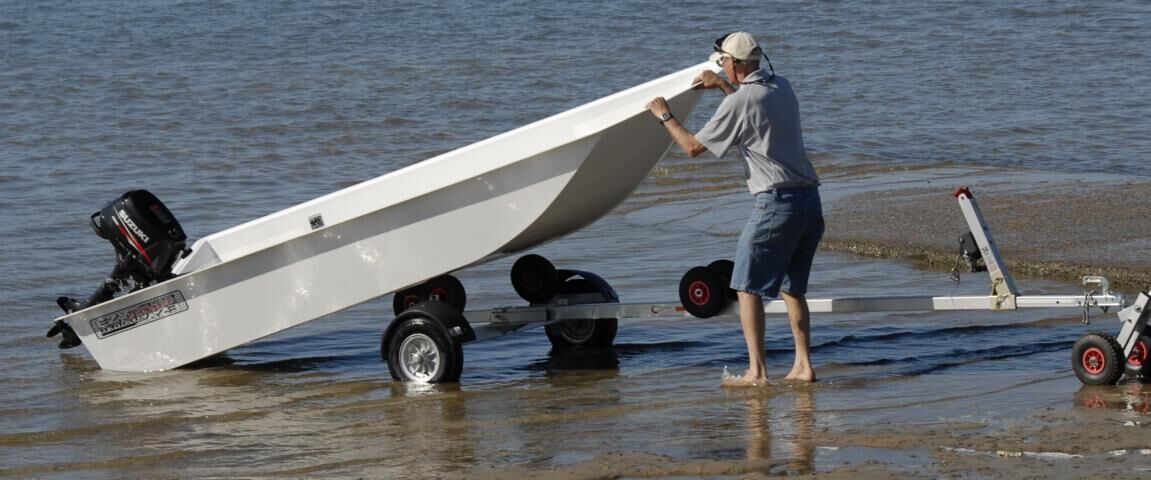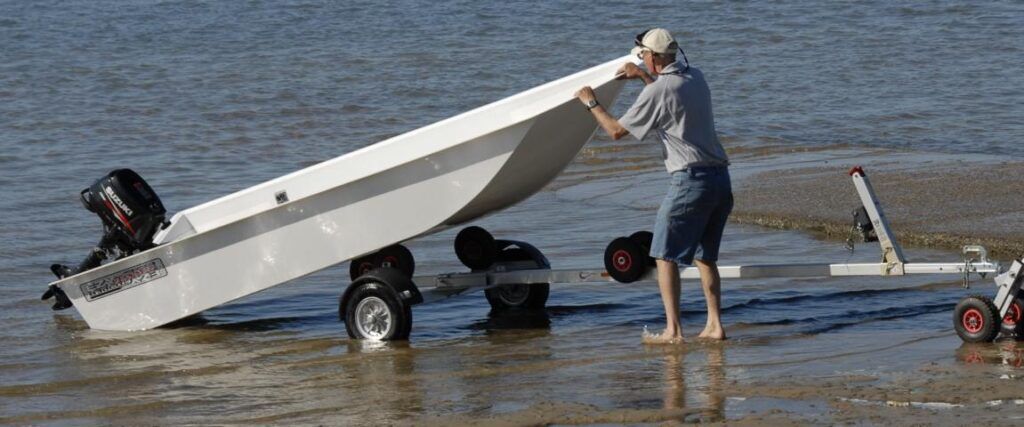 What if I have a small car or a twin cab?
We've custom built many EzyLoader's to suit smaller cars with a low roof carrying capacity. Our approach to distribute the weight of the boat over the car roof. For a smaller car this can mean adding a support bracket to the tow bar or the front bull bar if fitted.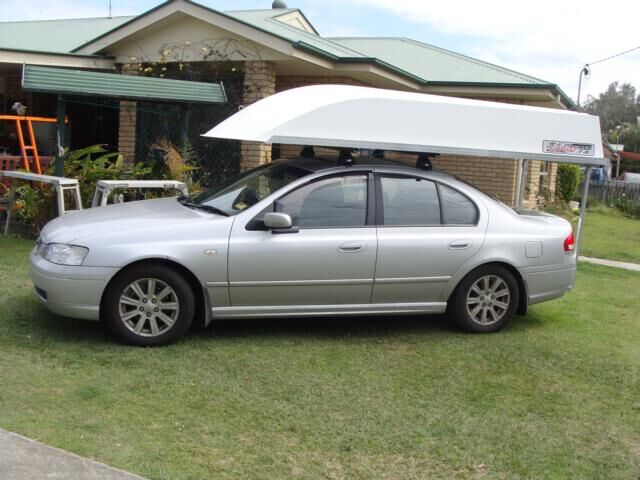 A tray on a dual cab four wheel drive moves separately from the cabin. So we designed a clever mounting system that helps spread the boat weight onto the canopy whilst still allowing the canopy to move separate from the cabin. We use rubber engine mounts on the canopy to attach the Ezyloader's aluminium angle. Therefore allowing a full length of aluminium to run from the canopy to the cab.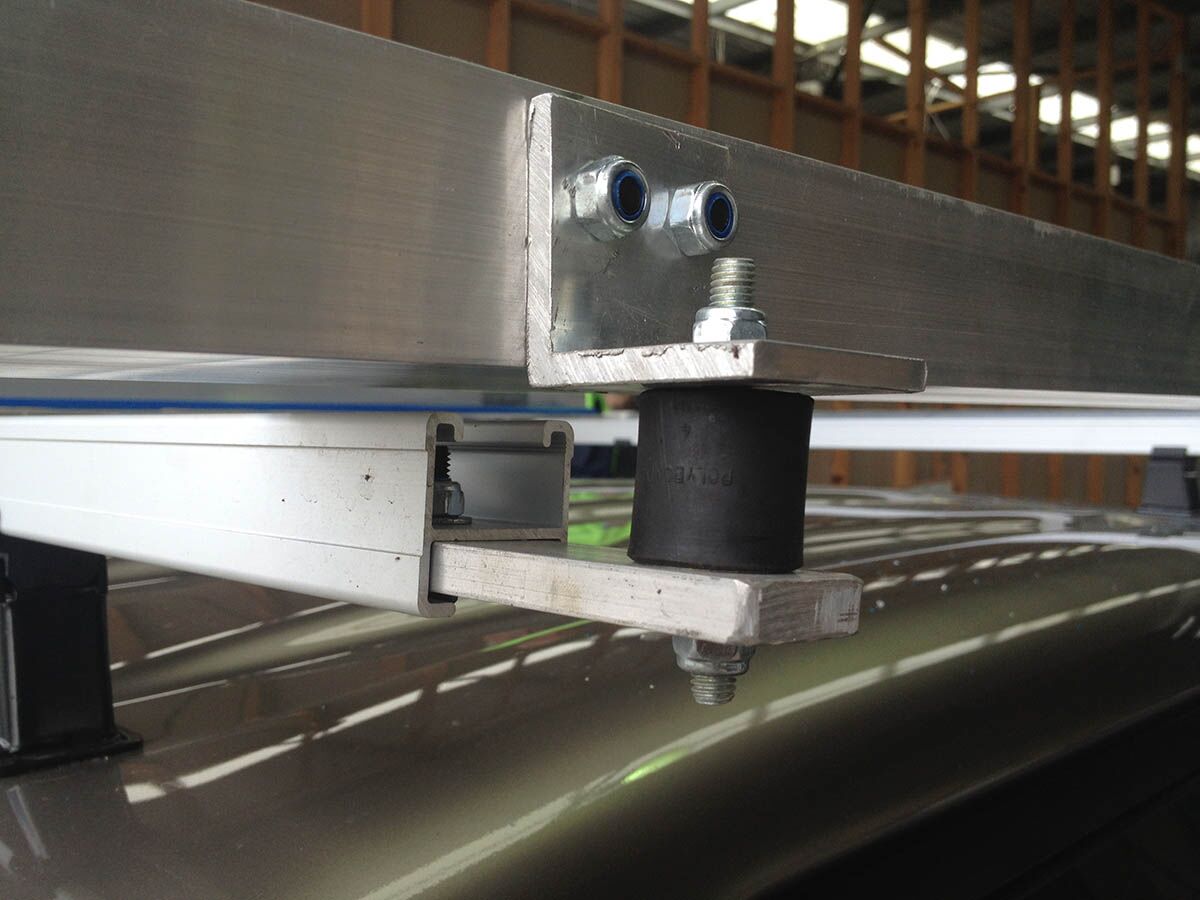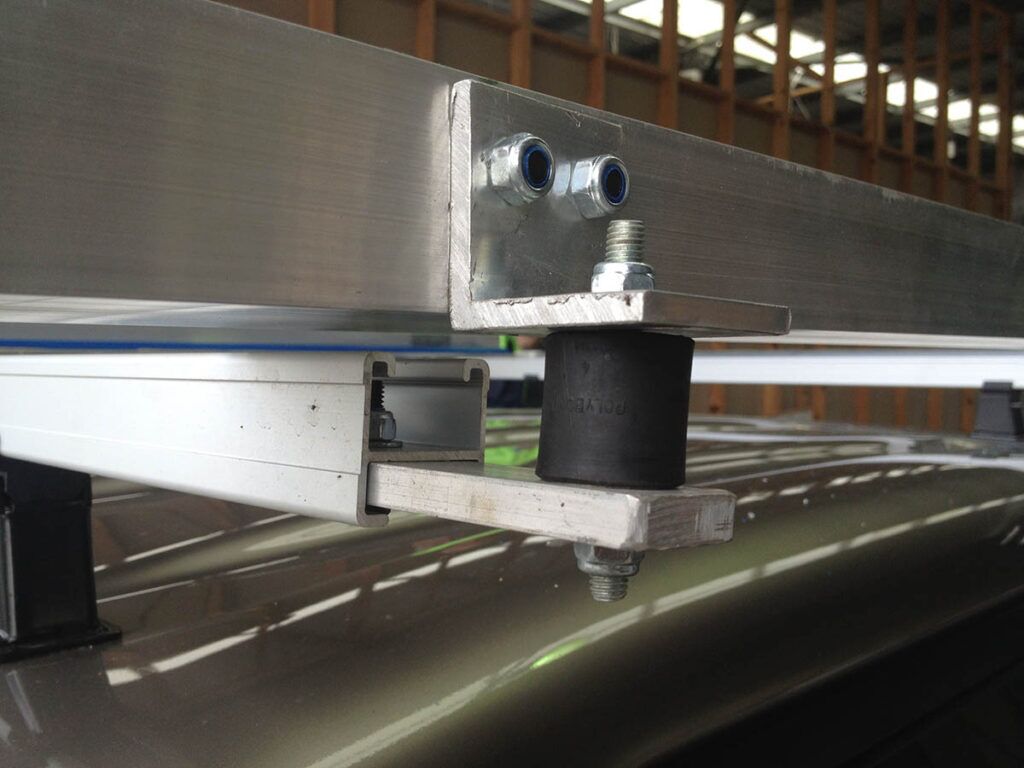 So whatever your requirements, Enlightened Boating has a solution for you!